I asked the question to food photographers on a recent insta post – where you do you start when you're putting together a shoot for yourself, after you have the recipe/theme/story in place?
I almost always start with deciding on the the mood and the light I want to work with, and then I move on to color, which naturally leads me to the props and surfaces.
This first triptych is where I started, even after knowing that the recipe I would be using was full of color. The rainbow, in fact.
I wanted to celebrate the color, but not in a bright, white, summer day feel. I wanted to go dark and contrasted while letting the ingredients take center stage. I'm pretty happy with the outcome, even though my starting place was almost void of color.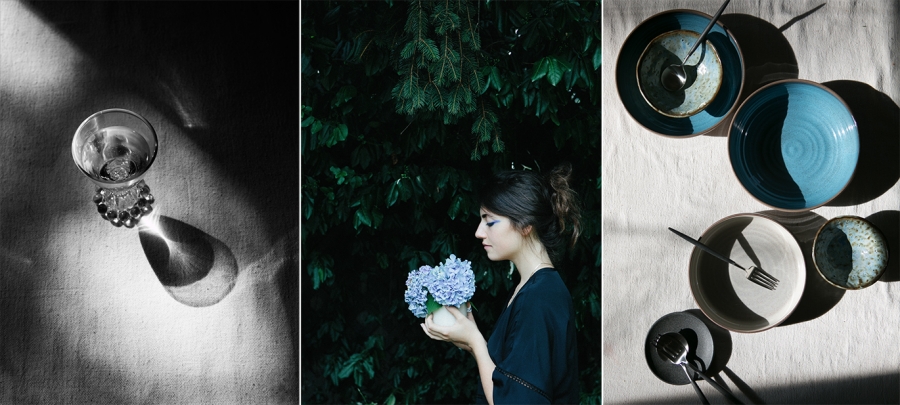 This shoot is from another recipe prompt from my Grey Salt Collective Facebook Group. We have a year long theme of 'How Do You Rainbow' and when I came across The Green Life's recipe of Rainbow Macro Bowls with Gomasio & Spicy Tahini Sauce, I knew it would be a perfect fit.
Along with the recipe, the push was to use at least two different lighting angles.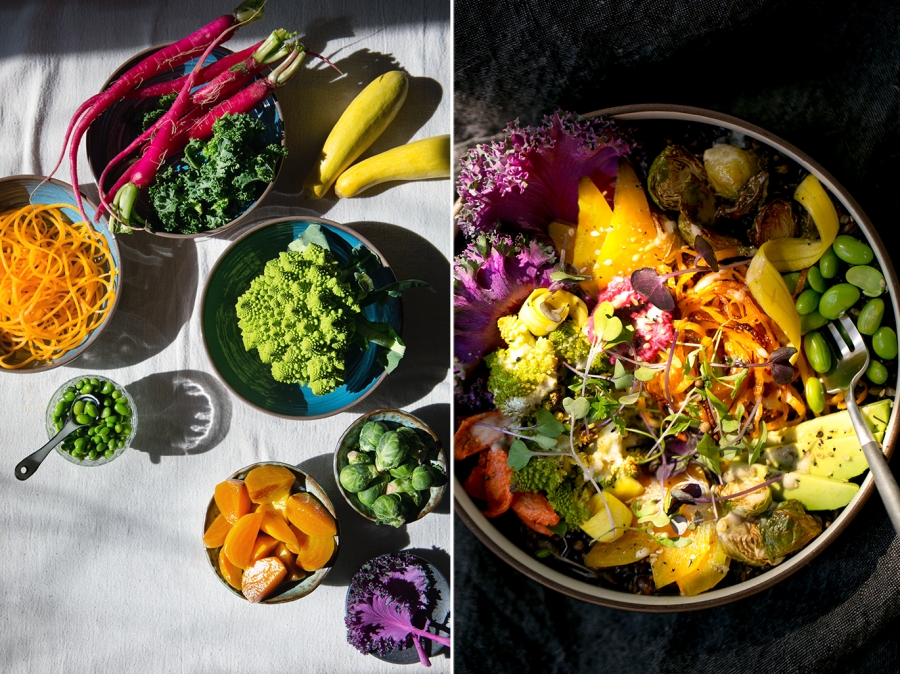 I was lucky enough to have full on sun for 2 hours, and though I was chasing it across my kitchen table, it was worth it. I was anticipating having to break out a strobe, but I went with what was already happening.
As for the Buddha Bowl itself, follow The Green Life's link above to get the full on recipe. I substituted black pearl barley for the rice, and chose both raw and roasted veg that I love, you should feel free to do the same with all recipes.
The Tahini Dressing has a lot of flavor and was a nice change from my go to. I omitted the sriracha and used honey in place of maple syrup. The Gomasio is really great. I made extra, added sumac to it, and now it sits on my counter ready to sprinkle on anything and everything. Lastly, I made a beet hummus that went really well with these bowls.
Basically, this is the kind of recipe that you can prep all of the ingredients ahead of time, place them in your fridge so that when meal time comes around, you're just roasting and assembling. Easy, convenient, full of flavor and textures, and healthy.