It still amazes me where some of the best collaborations can be found.
I came across Chef Nathaniel Day through the magical rabbit hole that is Instagram.
After a month or so of following, likes and comments, I finally met him through a workshop he offered combing the topics of food, herbs and oils, physical movements, and quiet meditation.
He's passionate about sharing his personal journey and knowledge through cooking and teaching.
From there…a new conversation began.
Our first collaboration was spread over two days of cooking and shooting in my studio. In typical fashion, I plucked out ingredients that I found beautiful and borrowed them for a quick still life.
He creates, I help style for the camera, light and shoot…we are both happy campers. I am just crazy for these colors!
As we create together, I'll share the imagery & loose recipes, here, and Chef Nate will elaborate much more of the nutritional information and benefits on his site, Plant Based Culture, here, like this:
'Heirloom varieties of foods will provide your body with more nutritional coverage.  More color, and other subtle differences, rather than just eating the same old thing (always yellow corn, or always white sugar)  for instance, will mean that you are only getting the same ol' nutrients, or lack-thereof! Color in food is a nutritional / bio – logical SIGNAL. Different pigments contain within them different phytonutrients which will protect your body from serious dis-ease, such as cancer and more. It is important to include all colors in your diet to do the best for your self. I have overcome many adverse health conditions, and I have found that color, is one of the keys. I am now known as a Chef with very colorful dishes.'
First up
Salata of Heirloom Tomato, Avocado, Citrus, Fig and Herbs with a Balsamic Reduction Dressing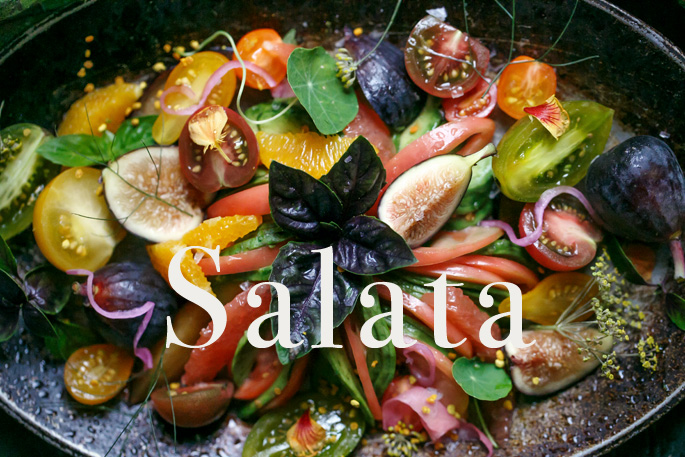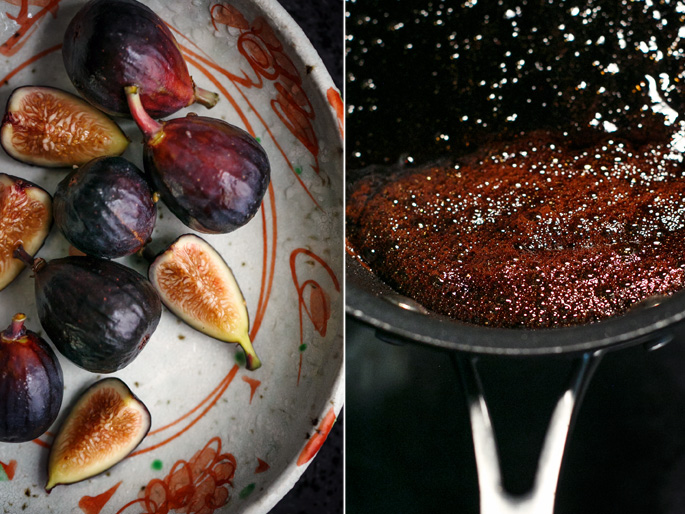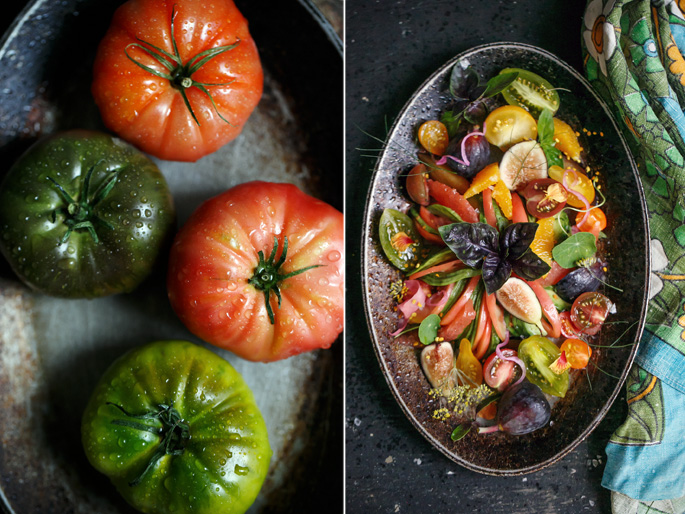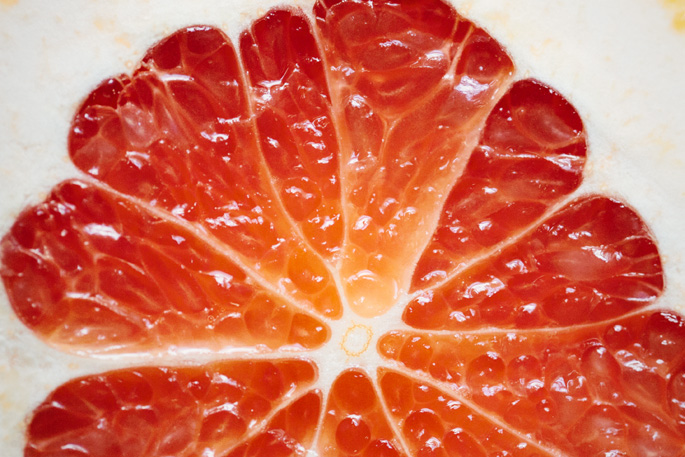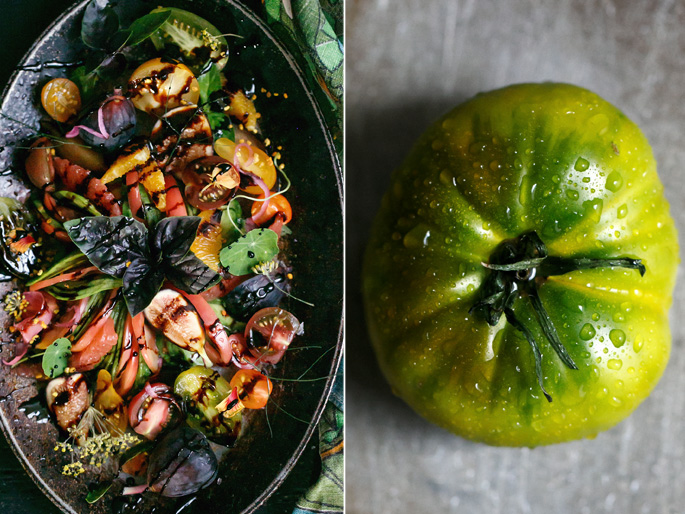 Salad Ingredients
(serves 2)
A selection of heirloom tomatoes, both full sized and cherry sized
One Haas Avocado
3 Black Mission Figs
1 Orange
1 Grapefruit
Pickled Shallots & Ginger
Herbs & Edible Flowers – Bronze Fennel, Purple Basil, Nasturtiums
1 Tsp Bee Pollen
Maldon Sea Salt to taste
Balsamic Dressing
250 ml of Aged Balsamic Vinegar
Juice of one freshly squeezed orange juice, or you may use up to 250 ml , or 8 oz , of fresh citrus juice for a more highly flavored citrus reduction .
Method
Place balsamic vinegar in a saucepan on the stovetop.
Add in orange juice.
Over medium high heat, allow the vinegar and citrus to come to a slow boil until reduced to half the original amount.
Remove from the heat and cool completely.
Plating
Thinly slice larger tomatoes and avocado, fan out (alternating each) into a circle, in the center of your platter
Slice cherry tomatoes in half, or quarters if larger, as well as the figs, leaving some of each whole, and toss around center spread.
Supreme both the orange and grapefruit and add.
Toss in thinly sliced pickled shallots & ginger, to taste.
Sprinkle on the bee pollen, Maldon Sea Salt, and generous amounts of herbs and flowers, all to your preference and taste.
Drizzle with the reduced balsamic dressing.