Into the studio I went yesterday for a creative play date where I wore all the hats – photographer, set/prop stylist, and food stylist.
Holiday music turned way up, globe lights twinkling, hot chocolate, and early winter window light. I was in my happy place.
Red Velvet Cake with Crushed Candycane & Sugared Cranberry Cheesecake Cupcakes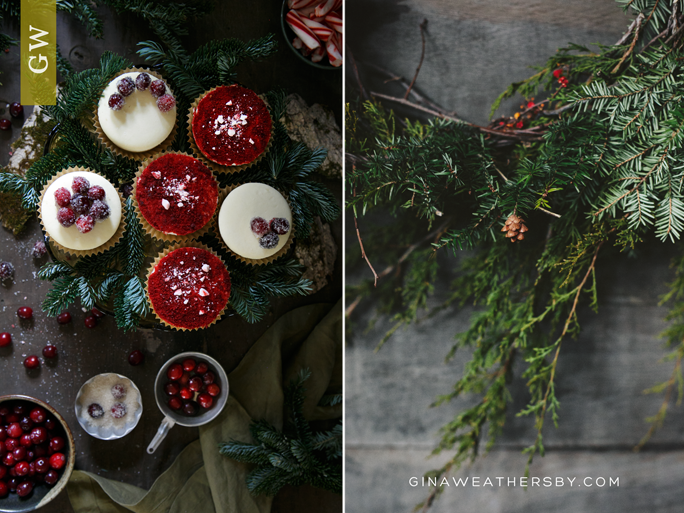 I try my best to carve out regular time to work on my craft, push boundaries, or, to just create for myself. This was nothing short of a creative play date for one.
No elaborate anything this go round, just an opportunity to get into a creative zone with no agenda or need. A few hours to be free of constraints, should do's, shot lists, or story boards.
Simply starting with cupcakes, a few foraged greens, a clean surface, then the slow but sure compositions forming from adding each element, playing with color, texture, light, shadow, and layers.
This, like quiet time for an introvert (me), is energizing. It's necessary, and never a chore. Bonus when images I create turn into marketing pieces.
I would love to tell you that I baked these babies up myself, as I have THE BEST cheesecake recipe ever, but instead, they came from my neighborhood Fresh Market's bakery, with only the toppings coming from me.
Simple, festive, colorful and delectable.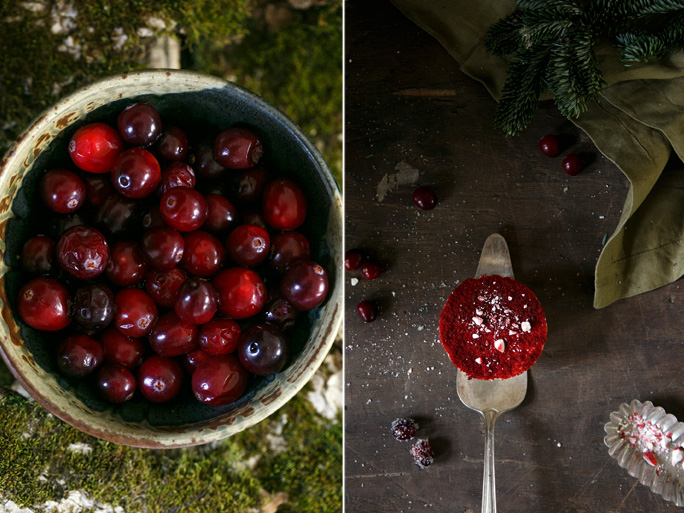 Cheers and Merry Holiday Friends!