Professionally, as in life, there are inherent ups and downs that naturally happen. That's just the way it goes. Some days, the downs are so bad, you want to throw in the towel and stay in bed. (Yes, I speak from personal experience.)  If you are tenacious enough to see it through, and can stand back knowing that you maintained your integrity, character & honesty…then I'd say, it was worth every moment, of all of it.
Some of the greatest parts being the unexpected outcomes of laying the foundations in the directions that you've chosen for yourself. If you stay your general course, amongst the demands and expectations of others, you will end up being (overall) productive, happy, and greeted with sweet surprises…like being included inside the pages of the magazine Where Women Cook, because of the work you've created, and wonderful friends (Lisa Ballard) sharing it.
In amongst the sour, and when you least expect it, life can be so very sweet.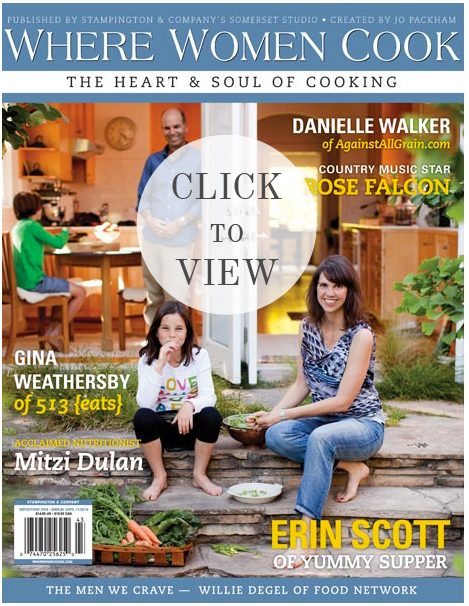 Jo Packham is the powerhouse and Creator/Editor-in-Chief behind her series of magazines (partnering with Stampington & Company) Where Women Cook, Where Women Create, and Where Women Create Business, as well as running her long time successful publishing company, Chapelle Ltd, which has packaged more than 1,000 titles for most major publishers in the industry. After a few exciting emails back and forth, filled with a plethora of future collaborating ideas (which I will share a little of below), I was still a little nervous when the phone rang. I'm not sure what I expected, but what I discovered was a funny, vivacious, open to as many ideas as you could throw out, can do woman, who I loved and could have talked to for hours. Her overall passion…creating a platform where strong, artistic women can be seen, heard and empowered.
The first order of business was to write a little about my journey with food/cooking, and how it had tied into my professional life as a food photographer. My first thoughts were….I am a photographer, not a writer. Where do I begin? How many words? Third person and then first person?? Oh boy.
Once I took a deep breath, I realized the natural place to start was to talk about learning to cook by standing next to my Yia Yia (Greek grandmother) for as long as I can remember. Lessons about good, fresh, simple foods and lessons about life – all in the kitchen. There's a reason it's the heart of the home.

Happy and honored to have been included amongst the other talented and creative women sharing their stories, and recipes, within this publication. I encourage you to pick up the current Fall copy of Where Women Cook, and read all the way through. Thank you Sophia, for making the Jeni's Splendid Ice Cream recipe that one summer day (and letting me photograph you, and it) and, thank you Gabriella for being my photographer when I had to be in front of the (your) camera.

As cool as this was, I am even more thrilled to be a continuing contributing photographer to not only the WWCook magazine, but for Jo's other magazines as well. As you know, I am quite passionate about capturing creatives in their environments, and sharing their visual stories and creations with the world. I'm looking forward to seeing more than a few women from our own city that I've photographed, in upcoming issues, as well as, being in the planning stages of a story that will take me to a most gorgeous part of the world to photograph a beautiful chef/writer/teacher for a week, or so. I'll share more, as I can.
Lastly, I'm excited to share this, the latest of logos, to my ever growing collection – of which I must thank, once again, my talented friend, graphic illustrator, Lisa Ballard, for creating.
This logo will top the page of the quarterly column that I am writing and photographing for in the Where Women Cook magazines, starting in 2015.
The lesson…do what makes you happy, be a good person, and get out of bed.
x~Gina