I'm happy to offer my latest food photography workshop ~
FOOD PHOTOGRAPHY NARRATIVES with Natural light, Simple Styling & Storytelling through The Bloom Forum's two week online course which runs from July 28th – August 11th.
Active Seats are $200 and Silent Seats are $150.
You must be a member of The Bloom Forum to participate in this online workshop. You can hop over to The Bloom Forum Website to BECOME A MEMBER and then register for the workshop HERE.
 This workshop is all about making beautiful images of food using natural light, simple styling as well as telling a story around it. Seeking the one perfect image is wonderful, but, for me – it's the story that pulls me in deeper, makes me want to keep coming back for more, and keeps me loving what I do simply because each story is inherently unique. In our time together, I will share with you what I have learned and what I know about making beautiful and engaging images of food by using solid techniques and almost more importantly, a creative eye & heart through descriptions, visual examples, demonstrations, shooting assignments and individual critiques.
This is for food bloggers, recipe developers, food writers, hobbyists, amateurs, or anyone wanting to learn to improve the quality of their images and/or how to approach, style and make beautiful images of food using natural light in the simplest of settings. I create many of my food images/stories in the dining room of my own home or by a single window in my studio with the simplest of props, natural styling, and basic equipment, and you can too. My goal is to share with you my approach along with the components of creating beautiful photographs of food that you can take with you, continue to practice with and use to create enticing images to grab your reader's/client's attention on your own websites, blogs or personal projects.
WHAT TO EXPECT:
Topics covered will include:
Class Outline
Lesson 1 Your Story/Your Style: The thought process behind a food shoot – storyboards/purpose/theme/color palette/mood and your style of storytelling.
Lesson 2 Natural Light: How to see and find light as well as understanding the differences in the qualities of light.
Lesson 3 Modifying Light: How to manipulate light with simple and affordable materials.
Lesson 4 Technical Camera Considerations (Aperture, Shutter Speed, ISO, White Balance): How your manual settings play an important role in the artistic choices you make in creating an image as well as understanding when and why to make certain choices.
Lesson 5 Camera Shooting Considerations (Lens Selection, Camera Angles, Lighting Directions)
Lesson 6 The Story
Lesson 7 Creating Your Shot List
Lesson 8 Artistic Considerations- Part One (Light, A Sense of Place, Composition, Color, Emotion)
Lesson 9 Artistic Considerations- Part Two (Props and Set Styling) – Choosing backgrounds, props and styling simply (and the importance of not over-styling).
Lesson 10 Artistic Considerations- Part Three (Food Styling)
Lesson 11 Being Prepared to Shoot/Live Video Shoot
Lesson 12 Post Processing: I'll walk you through some of my basic editing via screen recording.
Lesson 13 Assembling your Visual Story: How I marry imagery and design for interest and impact for strong storytelling.
Lesson 14 Getting Inspired, Staying Inspired and Working your Craft
Bonus Optional Assignment
The Workshop is online and forum based – which means it is in written form, with Lessons and interaction all happening within the workshop forum. The workshop will be accessible for a month after the workshop ends as well as each student receiving the full pdf of the workshop for future review.
Students will receive:
Written Lessons
Demo video of me covering the elements of being prepared, inspiration for my own food story that I will shoot for the workshop, and working through the food shoot.
Post processing video
Assignments and individual constructive comments (cc)
The full downloadable pdf of this workshop
Q&A: All active seats will be able to participate in open Q & A sessions throughout the 2 weeks. I'm here to share with you and you're here because you want to learn, so don't be shy. Ask away, I'll do my very best to answer anything and everything to the best of my ability.
**After the workshop, active participants are encouraged to put their skills to use with a final assignment of photographing and creating a magazine style spread of their own Food Narrative for a final critique. .but will be available to access for a month or so afterwards as well as having the full pdf for reference at any time.
Here is a little clip of the video created for Lesson 10 to give you a little peek at some of what we will cover. JUST CLICK ON THE IMAGE to see the video.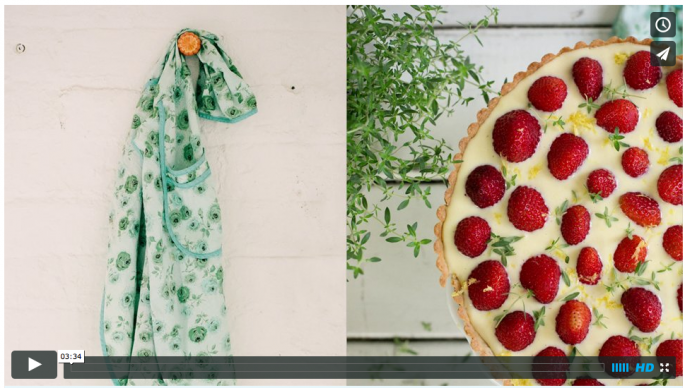 PREREQUISITES:
To enroll in this digital natural light food photography workshop, you do not need to have the latest or most expensive camera/lenses/equipment, but you'll get the most out of this workshop if you have a DSLR, tripod, and at least a 50mm lens. Regardless of your camera, you need to have a basic understanding of your camera's functions as well as being comfortable with shooting in manual mode. This is not a beginning photography class.
And, again, You must be a member of The Bloom Forum to participate in this online workshop. You can hop over to The Bloom Forum Website to BECOME A MEMBER and then register for the workshop HERE.
Feel free to email me at gina@ginaweathersby.com with any questions!